Prostate | Prostate | Nutrients for your prostate
You can also use a nutritional supplement that contains extracts of saw palmetto, pumpkin seed and nettle.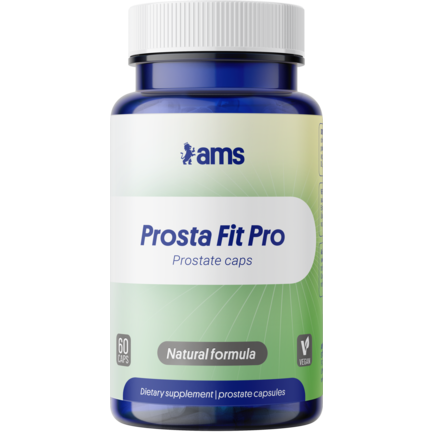 Prostate
It is no bigger than a walnut, but performs a very important function when it comes to male fertility. We are talking here about the prostate. A gland that is located under the bladder and regulates all kinds of things there. It is responsible for the propulsion of sperm and for getting an erection. The urethra runs through the prostate, this allows the urethra to be used for sperm transport during sex. The prostate grows ever so slightly from puberty throughout your life. However, this enlargement can eventually cause problems with urination as the urethra is pushed shut. In addition, you may have trouble getting an erection.
Symptoms of prostate enlargement
If the prostate enlarges, it can cause problems with urination. For instance, you have to urinate more often and urinating takes longer because the urine jet is much less powerful. In addition, you have trouble passing urine and completely emptying the bladder. You actually feel that the bladder is not empty, so you have constant urges. You will also drip a lot. Sexually, you will notice that erection is more difficult and ejaculation is hampered by the same narrowing of the urethra.
Usually benign
Because it is normal for the prostate to continue growing throughout a man's life, most enlargements are benign. This is therefore also called benign prostatic hyperplasia (BPH). Benign prostate enlargement can present itself as early as the age of 40. Nevertheless, it is a good idea to consult a doctor in case of the above symptoms; there could always be something else going on and it is better to catch it early.
Support for a healthy prostate
To keep your prostate healthy, healthy living is recommended. For instance, urinate sitting down instead of standing up so that you can empty your bladder properly. Also, go when you have an urge and try not to hold it up for too long. Also, take time to empty the bladder completely. Drink plenty of water to help wash out the bladder properly. For good circulation, it is advisable to keep exercising. Walking and cycling are especially good, but swimming or a game of padel is also recommended. It is also good to eat healthy food with lots of antioxidants. These can be found, for instance, in blueberries, raspberries and grapefruit.
Prostate and sex
The prostate grows with age and, as mentioned above, this can make it difficult to get an erection. In that case, it is a good idea to take your time during lovemaking. Don't put too much mental pressure on yourself by worrying about the fact that the erection won't come automatically. If you take your time, it is easier to achieve an erection. Even when the prostate is not enlarged. Incidentally, a good nutritional supplement can also help erections when the prostate is enlarged.
Nutrients for your prostate
You can also use a nutritional supplement that contains extracts of saw palmetto, pumpkin seed and nettle. This is because these substances can support the function of the prostate, keeping your sperm in good condition. Incidentally, it is important that a dietary supplement for your prostate contains an extract from saw palmetto berries. This is because the substance saponin is extracted from these berries and it helps increase sexual energy in both men and women. For men, this substance can help with erection problems due to an enlarged prostate. It can even help them urinate better. Zinc and selenium can also contribute favourably to this. Furthermore, these nutrients help promote blood flow to the prostate. This is both good for sperm production and for promoting a good erection. Did you know that large amounts of zinc are already present in prostate tissue? This trace element helps build proteins in the body, supports favourable testosterone levels in the blood and helps keep various tissues healthy. As a result, it can be very beneficial for the prostate.

Note that the results of some nutrients are purely based on traditional use and, in many cases, have not been scientifically researched or proven. The health claim for several products is pending European approval. Always read the leaflet before use, do not exceed the recommended daily amount and always consult a doctor in case of doubt or medication use.